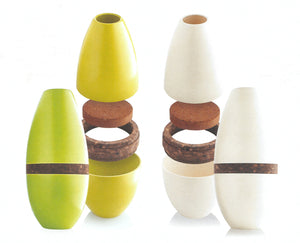 Eco-friendly.   Made of a mixture of bamboo fibers and other biodegradable materials, the BioTree Urn provides a more sophisticated and contemporary solution to a loved one's desire to return to the earth after life.  The unique design and processing method ensures healthy growth of the memorial tree.  
How it works: 
Add cremated remains to the base of the BioTree Urn.
Plant a sapling using the provided tree certificate or work with a local nursery to grow a tree from a seed.
Just add water.  No need to add soil, and the BioTree will treat the cremated remains.
Watch a loved one become a tree.  BioTree Urn may be kept inside until it begins to crack, then it is time to plant the urn.
Using the included tag, the location of the tree can be geotagged and families can create an online memorial to share with family and friends. 
| | |
| --- | --- |
| Height | 11" |
| Diameter | 5" |
| Cubic Inch | 90 |
Access:  Middle